ART SERIES by ANGELA VERDI SWISS SERIES
Swiss series by angela verdi
This series combines the Swiss tradition with their traditional outfits and their most valuable animal the cow together with modern everyday people.
'This series represents my daily life at lake Constance in Switzerland. The pictures capture the people I got to know and who had an impact on my me.
In order to keep their identity anonymous, I paint their faces in rust. These rust elements change their colour depending on the angle of light source. I like to use the rust effects, because they are very lively, not controllable and unique like everyone of us. Since I have my roots in the fashion business and have been connected to the fashion brands, which are being designed at lake Constance, it was more than obvious to combine their fashion statements in these paintings.
Especially the woman dressed in modern outfits are taken from the original fashion campaigns. They represent the modern times. The people dressed in the traditional Swiss outfits represent the past and history of the country.
The cow is the connection between the past and today.'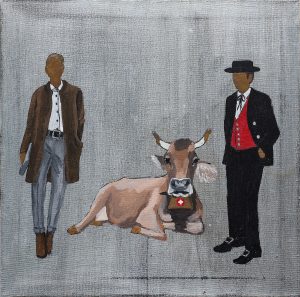 Some impressions from the SWISS SERIES